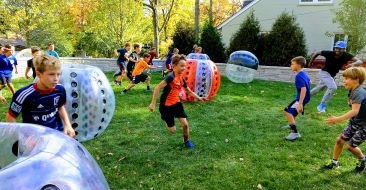 1.5 Hr Knockerball Party (20+ Players)
K

nockerball

P

arty

P

ackage

#3




Recommended for 20 - 30 Players
We bring the party to you! Knockerball can be played outside at your local park or indoors on a basketball court or turf field. Need help finding a location? Just give us a call and we can recommend a few of our local partners in the city & suburbs. Did you know we now have an indoor location at Chasers Laser Tag in Naperville!
Includes: 1.5 Hours of Game Time
10 Official Knockerball Bubble Ball Suits
All soccer & game equipement needed for games
2 Event Coordinators/Referees to coordinate bubble soccer & various games
Cost $425


Knockerball Chicago is fully insured, employees have been background checked and we offer 3 sizes to ensure player's safety and fun for all ages.
Questions? please contact us at (630) 635-6120 info@knockerballchicago.com

Optional Add Ons:
6 Foot Giant Soccer Ball $25
Velcro Soccer Darts $150
Additional Knockerball $20